By Oscar Odena.
Finding a methodological approach within which to work is not straightforward for practitioner-researchers engaged in enquiry aimed at educational change. Practitioner-researcher projects often (but not always) have a qualitative orientation, focussing on a limited number of participants and allowing for an in-depth analysis of particular cases and interactions. These projects tend to result in knowledge that is useful for other practitioners and in the researchers' enhancement of their own reflectivity skills-set. Authors also develop increased sensitivity and understanding of how research knowledge is produced and reported. Although the term practice-based research is favoured in the literature, the assessment of research outputs is not based on the quality of the authors' practice but their research, so perhaps the term practice-centred research would be more appropriate. This post is aimed at discussing some of the challenges encountered by individuals engaged in this type of enquiry. Centring one's research on one's own practice brings with it a number of particular challenges, including finding a valid research approach and addressing multiple audiences.
For practitioners undertaking research as part of a degree or continuing professional development, finding the right methodology is not easy. The issue at stake for many is the need to develop an approach that is fit for purpose: one that allows them to continue working while researching, and that is likely to produce knowledge relevant for enhancing their practice. Due to the nature of these projects, often implemented within a predetermined timeframe and sample, a number of qualitative approaches appear to be favoured. These include, for example, case study and action research, although some describe their methodology as 'qualitative enquiry' if what they do does not clearly fit any given approach as described in research handbooks  – illustrative examples of these approaches are outlined in the book chapter 'Some challenges of practice based/centred enquiry'.
Once the research is completed practitioner-researchers often need to feed their results back to a variety of audiences such as employers, colleagues, participants and other professionals. Reasons for doing this include good practice (debriefing participants), making a positive impact at work (sharing results with colleagues) and increasing visibility beyond the project's setting (dissemination). To increase the impact of practice-centred research there is a need to engage in a range of activities addressing multiple audiences. Hence each audience's particular needs and expectations would need to be taken into account when developing research outputs. Multiple dissemination, as long as it is openly acknowledged, would need to be encouraged, particularly when a project's practical implications may be of value for educators elsewhere, and when one of the aims of our open research culture should be communication.
[image (c) Leo Reynolds]
About Oscar: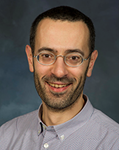 Oscar joined the University of Glasgow in January 2013. Originally from Spain, he has conducted educational research in a range of contexts nationally and internationally, including in England, Scotland, Northern Ireland, Catalonia and The Republic of Ireland. More information on Oscar can be found on his Glasgow University webpage. You can contact him at oscar.odena@glasgow.ac.uk